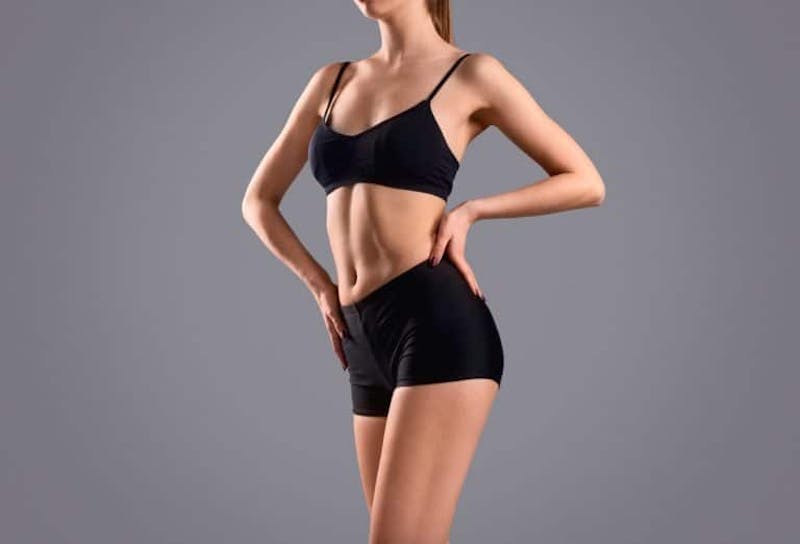 Have you ever wondered about the difference between CoolSculpting® and CoolTone® treatments? These two treatments are both innovative body contouring treatments offered by Allergan and while these procedures have similar-sounding names, they use vastly different technologies to achieve optimal results depending on your goals.
CoolSculpting® involves fat-freezing technology that targets unwanted fat cells. CoolTone®, on the other hand, uses magnetic muscle stimulation to strengthen and tone muscles.
While there are differences between the two treatments, they are complementary to one another, and many of our patients choose to take advantage of both!

What are the Differences Between these Body Contouring Treatments?
There are significant differences between CoolSculpting® and CoolTone® across a range of dimensions.
Goals
The goal of CoolSculpting® is to eliminate stubborn fat deposits that do not respond to diet and exercise alone. By contrast, while CoolTone® can generate leanness, its main purpose is to improve muscle strength and definition, particularly in the thighs, glutes, and abs.
Procedure
CoolSculpting® and CoolTone® work in different ways too.
For CoolSculpting®, we place unwanted fat inside a cooling applicator that freezes the area for up to 35 minutes. The fat then crystallizes and the body eliminates it over the following 12-16 weeks.
CoolTone®, by contrast, relies on magnetic muscle stimulation which sends pulses of muscle-activating energy through your skin. During and after CoolTone® treatment, the sensation is similar to that of an intense workout.
Another key difference between CoolTone® and CoolSculpting® procedures is that CoolTone® is able to treat the glute muscles, while CoolSculpting® has not been cleared for treatment of the buttocks.
REQUEST A CONSULTATION
We'd love to help you get all the information you need in order to make the best choice for your eyes. Request a consultation today! Our staff is available and happy to answer your every question.
REQUEST A CONSULTATION
Results
CoolSculpting® results in spot-fat reduction while CoolTone® helps to shape and define the underlying muscles.
CoolSculpting® results typically take longer to see since the body has to work to eliminate the dead fat cells. Once these fat cells are eliminated, they are gone for good. CoolTone® results can be seen much quicker, but may need to be maintained long-term with follow up treatments.
Benefits of Getting CoolSculpting® and CoolTone® in Tandem to Each Other
Many patients of NovaSculpting® choose to get both CoolSculpting® and CoolTone® back to back because of the unique benefits that each brings. For instance, with us, you can use CoolSculpting® on the abdomen first to flush unwanted fat and then add CoolTone® to define the underlying muscles. This way, you will look more defined AND toned.
NovaSculpting® specializes solely in these two treatments, meaning they are experts when it comes to combining them to get the best results. By scheduling a consultation with our experts, we will be able to evaluate your goals and make a customized treatment plan.
CoolSculpting® Overview
CoolSculpting® is currently the number-one non-surgical fat reduction treatment available. CoolSculpting® is technically called cryolipolysis. Fat cells freeze at a lower temperature than other surrounding healthy tissues. Cryolipolysis treatments, like Coolsculpting®, work by freezing fat cells to a specific temperature to destroy only the fat cells. This provokes the body to naturally eliminate the dead fat cells. Currently, it is the only FDA-cleared non-surgical fat reduction technique on the market.
Treatments typically take as little as 35 minutes per treatment and can reduce fat by 20-25% in the targeted area. Coolsculpting® results are long lasting and can be seen between 12-16 weeks. Each patient will be on a different timeline because results are highly dependent on the individual's metabolism.
CoolSculpting® is intended to reduce unwanted fat, it is not a method to lose weight. NovaSculpting® can treat up to 9-FDA cleared areas of the body including thighs, abdomen, love handles, bra fat, back fat, underneath the buttocks (also known as banana roll), upper arm, and the submental and submandibular areas (also known as the double chin).
CoolTone® Overview
CoolTone® is a muscle-stimulating treatment available at NovaSculpting® that gives you a more athletic physique. The applicator sends pulses of magnetic energy through your muscle fibers, powerfully activating them to increase both strength, size, and tone under the skin. After a series of sessions with us, your physique will look leaner, more toned, and more muscular.
There are no incisions or needles involved. And it comes with practically zero side-effects (other than the sensation that you have just had a workout). CoolTone® can be used in a variety of treatment areas, including the glutes, abs, and thighs.
Great staff, excellent service, very clean and Covid aware, professional in all aspects. THANK YOU.JOPIE B. DISCOVER MORE REVIEWS
Take the Next Step
Ready to learn more about non-surgical body contouring? Call us at (703) 884-1537 or fill out the consultation form on this page. We look forward to hearing from you!