When most people think of body contouring, they think of exercise, diet, or even liposuction. But now, there are non-invasive aesthetic procedures that can help you remove unwanted fat and shape your muscles in a more targeted way without undergoing surgery. At NovaSculpting®, our experts can help you get the physique you have always wanted in two ways: CoolSculpting® Eliteand CoolTone®.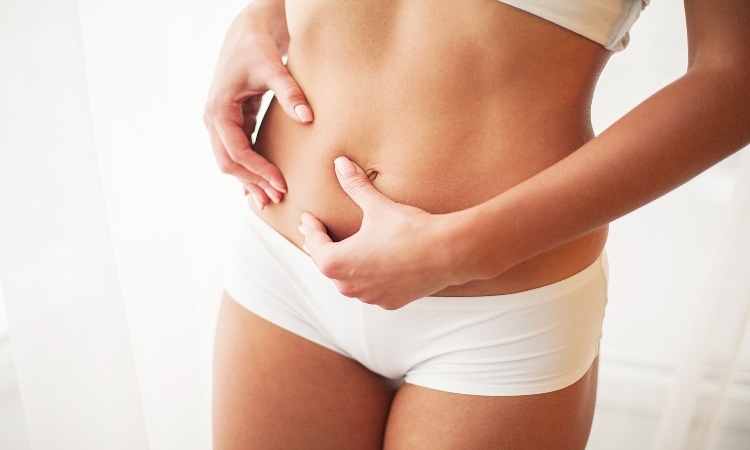 How Does Body Contouring Work?
NovaSculpting® can tackle your body contouring goals in two ways: removing unwanted fat and giving muscles greater definition and tone.
CoolSculpting® Elite
The first method uses CoolSculpting® Elite, a revolutionary cryolipolysis system that freezes unwanted fat while leaving surrounding tissues unharmed. Fat cells freeze at 53° F, a higher temperature than what affects skin and muscle cells. Precision cooling disrupts fat cell membranes until they are no longer functional.
The lymphatic system finds and removes these fat cells through the body's natural waste removal process. CoolSculpting® Elite is clinically proven to reduce unwanted fat by up to 25% in a single session. Additionally, with the CoolMini® applicators, you can get body contouring treatments even in hard-to-reach areas, like your submental fat, which is more widely known as your double chin.
CoolSculpting® Elite is FDA-cleared to treat the following areas:
Inner and outer thighs
Beneath the buttocks (banana roll)
Flanks
Abdomen
Upper arms
Chest
Double chin
REQUEST A CONSULTATION
We'd love to help you get all the information you need in order to make the best choice for your eyes. Request a consultation today! Our staff is available and happy to answer your every question.
REQUEST A CONSULTATION
CoolTone®
CoolTone® uses Active Magnetic Pulse™ technology to go deeper into the muscle fibers than any workout at the gym can achieve. These electromagnetic pulses create supramaximal muscle contractions, which are more intense than the voluntary muscle contractions of weight lifting and exercise.
The AMP™ patterns improve strength, increase muscle fibers, and build firm, defined muscles in the abs, buttocks, and thighs. Each appointment lasts around 40 minutes, about the length of a solid workout, and will improve your strength and stamina. You will notice improved muscle control and strength to make your regular workouts more effective. It is body contouring at its finest.
Am I a Good Candidate for Body Contouring?
CoolSculpting® is not a weight loss solution, so the best candidates are within 30 pounds of their target weight. CoolTone® uses electromagnetic stimulation, which can interfere with the operation of certain medical devices, like pacemakers or medical-grade hardware in the body. The most satisfied patients have realistic expectations for what body contouring at NovaSculpting® can do for them. Any questions you may have will be answered during your comprehensive consultation with a NovaSculpting® expert.
What Are Body Contouring Treatments Like?
At the beginning of your CoolSculpting® session, you may feel intense cold where the applicators have been attached to your treatment area. This sensation is quickly diminished as numbness takes hold, and the remainder of your appointment—around an hour depending on your treatment plan—will be comfortable and private in the NovaSculpting® treatment rooms. With CoolTone®, you will feel powerful muscle contractions, and afterward, muscle fatigue similar to a concentrated workout is normal. Neither treatment is painful, and you will be free to return to your active schedule right away.
What Results Can I Expect?
If you have had cryolipolysis, you may see results from CoolSculpting® as early as 3 weeks, but most patients typically see results between 12-16 weeks after treatment begins. Many NovaSculpting® clients are pleased with their body contouring outcomes after one treatment, but many opt for 2-3 more sessions. These improvements will continue for up to 6 months.
CoolTone® treatments are typically scheduled every 3-4 days for a total of 4 sessions to achieve maximum muscle definition and tone. You should see noticeable improvement around 2 weeks following your last CoolTone® appointment. Many NovaSculpting® clients prolong their results with additional treatments every 3-6 months. Your muscles will be more defined, stronger, and your stamina will be even better.
If you are looking for a slimmer, more defined, and toned body, call NovaSculpting® today for more information.
Great staff, excellent service, very clean and Covid aware, professional in all aspects. THANK YOU.JOPIE B. DISCOVER MORE REVIEWS
Take the Next Step
Ready to learn more about body contouring? Call NovaSculpting® at (703) 348-2243 or fill out the consultation form on this page. We look forward to hearing from you!