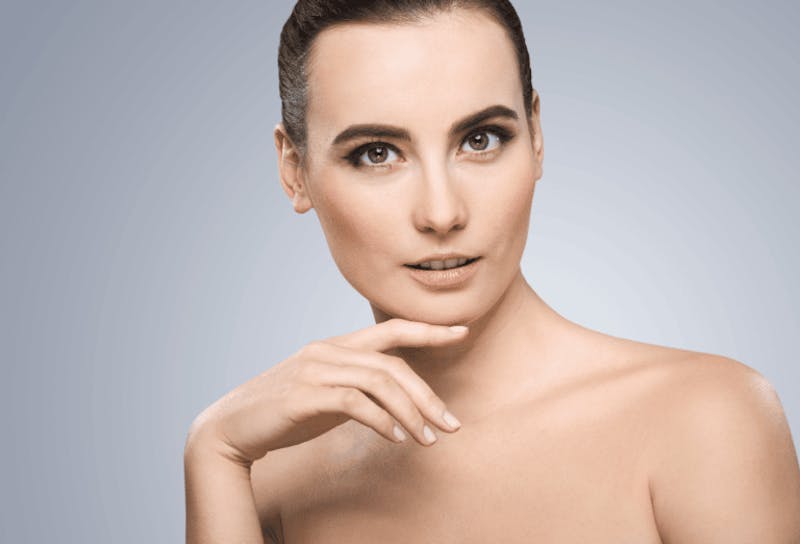 Unfortunately, double chins cannot be easily slimmed down with traditional diet and exercise. In the past, the most effective treatment involved liposuction or other surgery. This is no longer the case thanks to the CoolMini® applicator by CoolSculpting®. This is part of the CoolSculpting® family of treatments and is specifically designed to tackle stubborn submental fat and sculpt away your double chin.
What is CoolMini®?
The CoolSculpting® revolution began with the discovery that fat cells freeze at a higher temperature than surrounding cells. Fat cell membranes crystallize in a process called cryolipolysis. Those cells are filtered out naturally over time through the body's lymphatic system. Because the body stops producing fat cells after puberty, the reduced fat cells are never replaced. With precision temperature delivery, fat cells are safely flushed out, and the body is sculpted in ways that were previously impossible without surgery.
The CoolMini® applicator is designed for treating the double chin. It is one of the few FDA-cleared non-surgical treatments for reducing stubborn submental fat. Because a sculpted jawline is a significant source of confidence for our clients, creating a slim, pleasing profile with the CoolMini® applicator has a high patient satisfaction rate.
How Much is CoolMini® Treatment for the Double Chin?
Cost is a big part of the decision to have CoolMini® treatment for double chin reduction. You want the best results possible for the price. That is why CoolMini® is a good investment: its success rate is unquestionable.
The American Society of Plastic Surgeons lists the 2019 cost of reducing the double chin through cryolipolysis at an average of $1,376 per treatment. KYBELLA®, another submental fat reduction treatment, averaged $1,027 per treatment. The difference is your CoolMini® treatment may achieve your aesthetic goals in a single session, whereas most patients having KYBELLA® injections require a series of 3 or more sessions for the same results. We also offer financing options to ease the decision to achieve the sculpted jawline you have always wanted.
At NovaSculpting®, CoolSculpting® is all we do, so we are the Mid-Atlantic Region's premier cryolipolysis experts. The best way to determine accurate pricing for your treatment plan is to schedule a consultation with our experts.
REQUEST A CONSULTATION
We'd love to help you get all the information you need in order to make the best choice for your eyes. Request a consultation today! Our staff is available and happy to answer your every question.
REQUEST A CONSULTATION
Am I a Good Candidate for CoolMini®?
Candidates for CoolMini® double chin sculpting do not have to be near an ideal weight to qualify. All you need is unwanted submental fat and the desire to freeze it away for a more defined jawline. Your NovaSculpting CoolSculpting® expert will take a complete medical history and discuss your aesthetic goals during your comprehensive consultation, so you know exactly what treatment involves and there are no surprises.
What is CoolMini® Treatment Like?
The beauty of any CoolSculpting® treatment is how the cold numbs the treatment area to minimize discomfort. Your double chin sculpting session is conducted in a relaxing and comfortable treatment room designed for privacy. The CoolMini® applicator is secured to your submental area just below your jawline. The safety features maintain the proper temperature throughout the procedure. Initially, your treatment may feel intense, but as numbness takes over, you will be able to relax or watch Netflix. Some NovaSculpting® clients even nap. You may experience mild discomfort following your CoolMini® treatment, but it should subside within a few days. There is no lengthy recovery period because there is no trauma to anything but the fat cells.
What Results Can I Expect After CoolMini®?
CoolSculpting® treatments are clinically proven to reduce the fat layer up to 25% in one treatment. Because the body filters out the disrupted fat cells slowly, results may take approximately 3 months to become visible. Many patients are satisfied with their CoolMini® results after only one session, but in some cases, your NovaSculpting® CoolSculpting® expert may recommend 1 or 2 more sessions to achieve your specific goals.
Great staff, excellent service, very clean and Covid aware, professional in all aspects. THANK YOU.JOPIE B. DISCOVER MORE REVIEWS
Take the Next Step
Ready to learn more about CoolMini® double chin treatment? Call NovaSculpting® at (703) 348-2243 or fill out the consultation form on this page. We look forward to hearing from you!