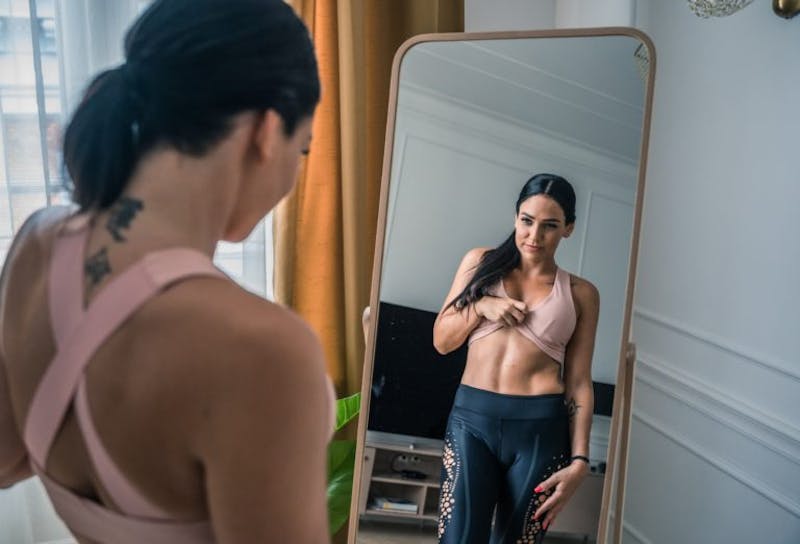 Because CoolTone® activates muscle fibers to a similar degree as regular exercise, you may feel slightly sore afterward. Many NovaSculpting® patients experience delayed-onset muscle soreness (DOMS) identical to that experienced after a traditional workout – a signal that their body is adapting to the stimulation provided by the treatment.
CoolTone® treatments are not painful, and many patients learn to enjoy the experience. Eventually, the body becomes accustomed to the sensation, becoming a regular part of your routine, allowing you to get closer to your physique goals faster.
What is CoolTone® Like?
CoolTone® can feel a little strange at first because your muscle contractions are involuntary. An applicator sends magnetic signals through the skin and fat layers to activate muscles directly, causing the fibers to tense and relax periodically outside of your conscious control.
Many NovaSculpting patients laugh instinctively at the start of treatment because it feels unusual. However, eventually, your body becomes accustomed to it, and it begins to feel routine.
Sessions at NovaSculpting® depend entirely on the unique needs of the patient. Our CoolTone® experts begin by placing the applicator on the skin above the target muscle and then activate the device to deliver magnetic signals to the muscle fibers beneath. Treatments can last up to 30 minutes and provide maximal stimulation of the target tissue without the need to engage in conscious exercise. All you have to do is wait.
CoolTone® Is Not Painful
While CoolTone® can feel a little strange to people who are new to the procedure, it is not painful. NovaSculpting®'s experts use liquid-cooled applicators that help to keep the temperature optimal during treatment sessions. Furthermore, we adjust the strength of the contractions according to your needs. If you want to work up to higher intensities, you are more than welcome to do so.
CoolTone® does not involve any penetration of the skin or downtime. Once you finish treatment with us, you are free to go about your regular schedule. In that sense, it is like regular exercise but much more convenient.
REQUEST A CONSULTATION
We'd love to help you get all the information you need in order to make the best choice for your eyes. Request a consultation today! Our staff is available and happy to answer your every question.
REQUEST A CONSULTATION
Candidate for CoolTone®
At NovaSculpting, we recommend CoolTone® for patients who are already a long way down the road to health and wellness. We consider it to be a treatment that augments an already-healthy lifestyle.
The best candidates for CoolTone® are people who already have low body fat levels over the target muscles and just want to add a little extra tone and definition.
Please note that CoolTone® is not a weight loss procedure. CoolTone® is also different from Coolsculpting®. While some patients experience a small degree of fat loss above the target area, the technique's primary purpose is to firm and tone muscles.
Since NovaSculpting®'s CoolTone® treatment uses magnetic muscle stimulation, it is not suitable for patients with implanted electronic or metal devices. Those with pacemakers, cochlear implants, or drug pumps should seek alternative therapies.
Great staff, excellent service, very clean and Covid aware, professional in all aspects. THANK YOU.JOPIE B. DISCOVER MORE REVIEWS
Take the Next Step
Ready to learn more about CoolTone®? Call us at (703) 348-2243or fill out the consultation form on this page. We look forward to hearing from you!